About SAE Systems
SAE Systems has established itself as a leading UK manufacturer and supplier of bespoke Security products worldwide, incorporating several subsidiary elements as part of the parent company such as Razorwireuk, RoadBlade, Magnumspike and S-COMM Under Vehicle Surveillance System.
Our clients include many blue chip and Government organisations including the UK Home Office, UK Police, Ministry of Defence, BT Openreach, Shell Petroleum as well as a large UK domestic and overseas client base
With over 10 years of experience in dealing with ultra sharp objects SAE Systems has decided to launch the Razorpro brand of PPE.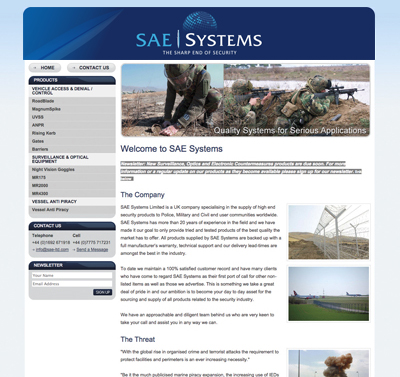 UNIQUE COMPOSITE TECHNOLOGY
In partnership with Rostaing a worldwide renowned manufacturer of PPE, SAE Systems has created the Razorpro product range utilising a unique concept of combining Stainless Steel "Inox" and High Tenacity Polyethylene "Dyneema" with High Quality Leather outer.
The product retains its comfort, dexterity and grip qualities, in addition to its inherent water and oil repellence qualities whilst at the same time delivering the highest Level of puncture resistance.