RAZORPRO – Heavy Duty Cut & Puncture Resistant Safety Gloves & Body Protection
Puncture Resistant Safety Gloves – Class 4 Protective Clothing for Razor Wire / Barbed Wire Installation • Veterinary Practices • Glass Removal • Landscape Clearance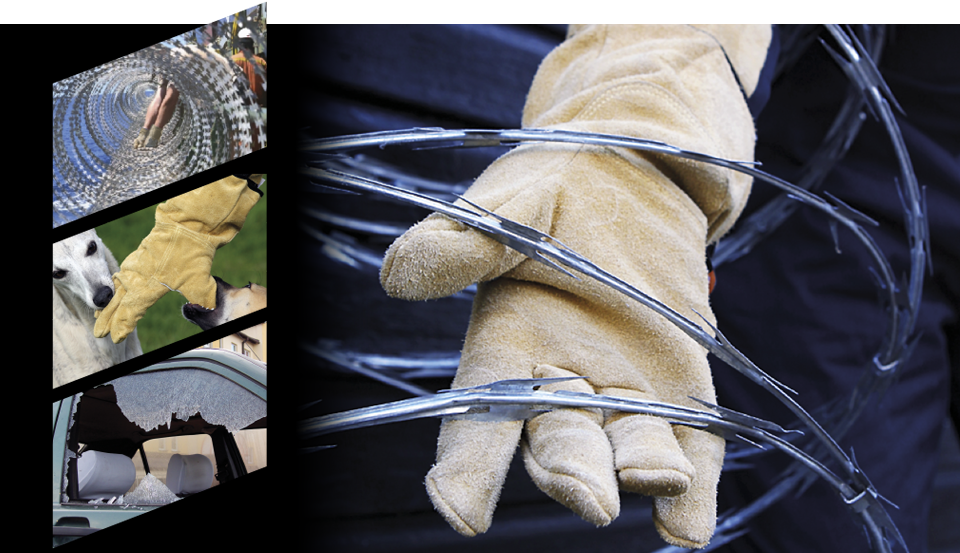 PPE THAT'S BUILT FOR PURPOSE
RAZORPRO – Heavy Duty Puncture Resistant Safety Gloves & Body Protection are especially designed by SAE Systems to address the industry requirement for an affordable and durable class 4 puncture and cut resistant PPE.
Our high quality safety gloves and sleeves are suitable for a wide range of applications including:
Razor Wire / Barbed Wire Installation
Veterinary Surgeries and Animal Welfare
Building Maintenance / Glass Removal
Landscape Clearance / Tree Surgery.
To date the only comparable products are considerably more expensive and far less durable. The principal reason for this is that the CE EN 388 Level 4 "puncture resistance" rating is difficult to attain utilising traditional fabrics whilst keeping the product affordable and comfortable to wear.
CUT OR PUNCTURE?
Whilst there are many products offering a high level of cut resistance (EN388 Class 5), puncture resistance can be more important when dealing with razor wire, animals or glass etc, the highest level of cut resistance according to EN388 is Class 5 and the highest level of puncture resistance permissible within the EN388 standards is Class 4, Razorpro achieves the highest level for both!